Description

Customisation

Diamond Info

Moissanite Info

Delivery Information
A timeless classic solitaire stud earring. Emerald cut stones set in a 4 claw setting.
These bespoke earrings are available set with your choice of ethically sourced mined diamond, lab-grown diamond or moissanite and available in either recycled platinum or recycled 18ct gold (yellow, rose or white).
Featured images show the earrings in 1.00ct total weight
Earring backs come with push-on butterfly backs as standard but can be upgraded to screw-on fittings.
As every item is made to order, if you would like any alteration to the design, or another specification of stone please contact us – this will usually be possible within a similar delivery timescale. 
For more information on creating a bespoke piece of jewellery visit our bespoke information page or make an appointment for a bespoke jewellery

 

consultation

 

in our Manchester Showroom.
As every item is made to order, if you would like any alteration to the design, or another specification of stone please contact us – this will usually be possible within a similar delivery timescale. For more information on creating a bespoke piece of jewellery visit our bespoke information page or make an appointment for a bespoke jewellery consultation in our Manchester Showroom.
All centre diamonds above 0.35ct come with an independent diamond certificate from either GIA or IGI (Lab-Grown Diamonds normally with IGI and Mined Diamonds will normally be with a GIA certificate)
If you have selected Mined Diamond as your centre stone, then any shoulder or Halo stones will be mined diamonds of F/G colour VS Clarity
If you have selected Moissanite or Lab Grown Diamond as your centre stone, then any shoulder or Halo stones will be lab grown diamonds of F/G colour VS Clarity
The Cut, Polish and Symmetry of all diamonds are a minimum of Very Good and with No Fluorescence - Please contact us if you would like to see a specific Certificate
F/G VS - The diamond will be a minimum of F VS2 or G VS1. G/H SI - The diamond will be a minimum of G SI2 or H SI1
For more information about diamond characteristics please visit our diamond education page.
If you would like a particular diamond specification or size that is not listed, or would
like to discuss your diamond requirements in more details, please contact us.
Size Chart (to be inserted later)
All our Moissanite are Charles and Colvard Forvever One (unless stated otherwise), and come with a lifetime Charles and Colvard warranty.

There colour is graded on the same GIA scale as diamonds, and fall in the DEF colour range. The clarity is in the VVS range.

The Moissanite on our website is listed as the diamond equivalent weight ie The 1ct listing for Moissanite would be visually equivalent in size to a 1ct diamond, but may weigh slightly less due to the differing specific gravity of Moissanite.
Made to Order items will be delivered within 21 days (If you require expedited delivery, please contact us - we may be able to turn some items around quicker than 21 days upon request).
In Stock Items including rings that don't require sizing will normally be delivered within 2 days. For in stock rings that require sizing delivery will normally be within 5 days.
UK Delivery is by Royal Mail Special Delivery. You will receive an e mail with a tracking number once the item has been despatched, and Delivery is guaranteed by 1pm the following day (excluding weekends). If you require a specific delivery date please contact us (including Saturday guaranteed deliveries).
International Delivery is by DHL.
All deliveries require someone present to sign for delivery.
WHAT ARE LAB-GROWN DIAMONDS?
Lab-Created or Lab-Grown diamonds are physically, optically and chemically identical to mined diamonds, the main difference is their origin. It is commonly known that mined diamonds are formed over millions of years under the earth's extreme heat and pressure, lab-grown diamonds can be subjected to similar conditions, however they are 'grown' in a matter of weeks in a laboratory. Lab-grown diamonds are also graded in the exact same way as mined diamonds and are ranked on their cut, colour, clarity and carat.
Unlike Moissanite and Cubic Zirconia which are considered simulants, laboratory diamonds have the same chemical substance to mined diamonds so should not be considered fake. These simulants both have different optical properties to diamonds, however lab-grown diamonds have no visual difference between them and mined diamonds.
HOW ARE LAB-GROWN DIAMONDS MADE?
One method uses natural graphite, which is placed in a large machine that crushes it with extreme pressure and temperature in the same way the earth forms natural diamonds. This high pressure, high temperature (HPHT) process causes the graphite to turn into diamond. In the more common chemical vapor disposition (CVD) method, a small diamond crystal "seed" is placed in a small chamber filled with common gases. When the gases are heated, they begin to form layers of carbon onto the seed crystal, growing a diamond.
LAB-GROWN VS MINED
Optical Properties - Visually you would not be able to tell the difference between a lab-grown diamond and a mined diamond, the only way anyone would know would be if you told them. It takes expensive specialised equipment to recognise if a diamond was grown in a lab, however all our lab-grown diamonds come with a certificate which clearly states its origin. Lab-grown diamonds are available in a wide variety of different cuts and fancy colours just like mined diamonds.
Sustainability and Ethics - Even though mined diamonds go through the Kimberly Process there is often no way of knowing exactly where the diamond was mined. Each lab-grown diamond is laser inscribed with a certification number on the girdle which identifies them as lab made. It's estimated that 100,000 tonnes of earth have to be extracted to mine natural diamonds fit for an engagement ring but the energy used to grow a lab-grown diamond is a fraction of this, making them a much more sustainable choice.
Cost and Value - Lab-grown diamonds cost significantly less than mined diamonds, the main reason for this is rarity. Although lab-grown diamonds are fairly new to the jewellery world, they're readily available and as more diamond laboratories open the less rare they become. Jewellery grade mined diamonds on the other hand are much harder to obtain giving them a hefty price tag. In comparison, a lab-created diamond with exactly the same specifications as a mined diamond can be between 30-50% cheaper. The rarity of a diamond also influences the value; mined diamonds are more likely to hold their value than lab-grown ones so if you are looking for an investment piece, mined would be the better option.
WHY CHOOSE LAB-GROWN?
If cost is an important factor when choosing an engagement ring, then lab-grown diamonds make a great choice. You can get a bigger diamond that has the wow-factor for much less money. Another reason would be sustainability, having the assurance that the diamond is conflict-free and has less impact on the environment might make your purchase that little bit more special.
If you want us to help find the perfect lab-grown diamond, then book an appointment with us.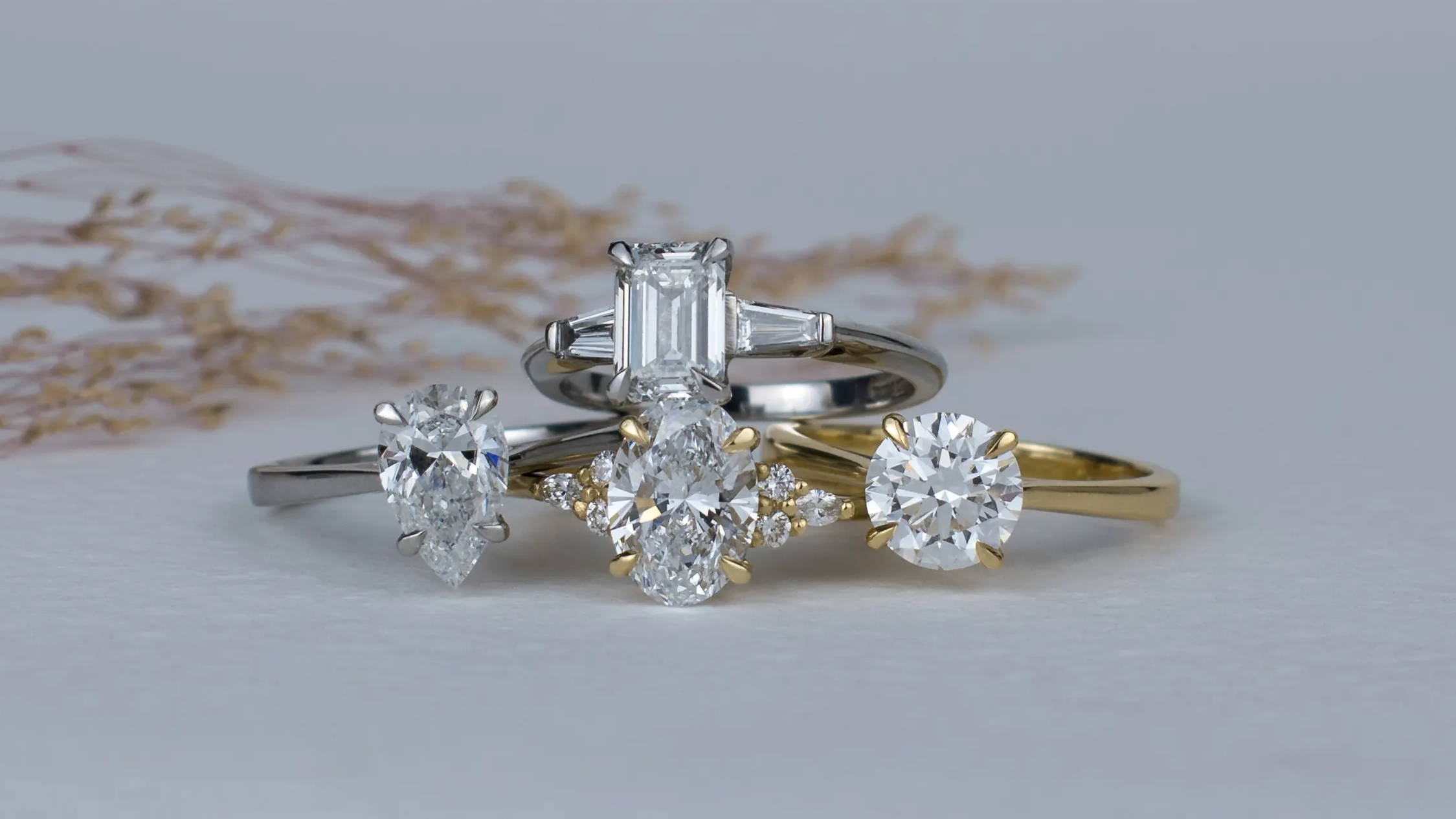 At Noah James we specialise in creating beautiful bespoke pieces of jewellery, all designed and made in our UK workshops, using only ethically sourced gemstones and materials. We think that jewellery should be made with thought, care and passion. With over 100 years of collective jewellery making expertise, we not only design beautiful jewellery, but we also understand how to make a piece of jewellery which you can wear and cherish forever.

Creating a bespoke piece of jewellery shouldn't equate to additional expense – due to our low overheads and in-house design and manufacturing, we not only offer massive savings compared to an off the shelf equivalent on the high street, but a unique and superior quality piece.
You may already have ideas for the design of your piece of jewellery, or you might not have a clue! Either way our designers can help to start the process for you – this can be done with an initial consultation by phone/email/skype or by booking in for a free consultation in our Manchester Showroom - Book Here.

Here we can show you samples of designs we have in stock, explore different stone options and talk you through the properties of different gemstones and metals. We will also discuss your budget and help guide you through the different options and best way of utilizing your budget. Before your appointment it is useful to know if you have any specific requirements, particularly with regards to stone sizes, shapes and quality so we can prepare a selection of stones ready for you to view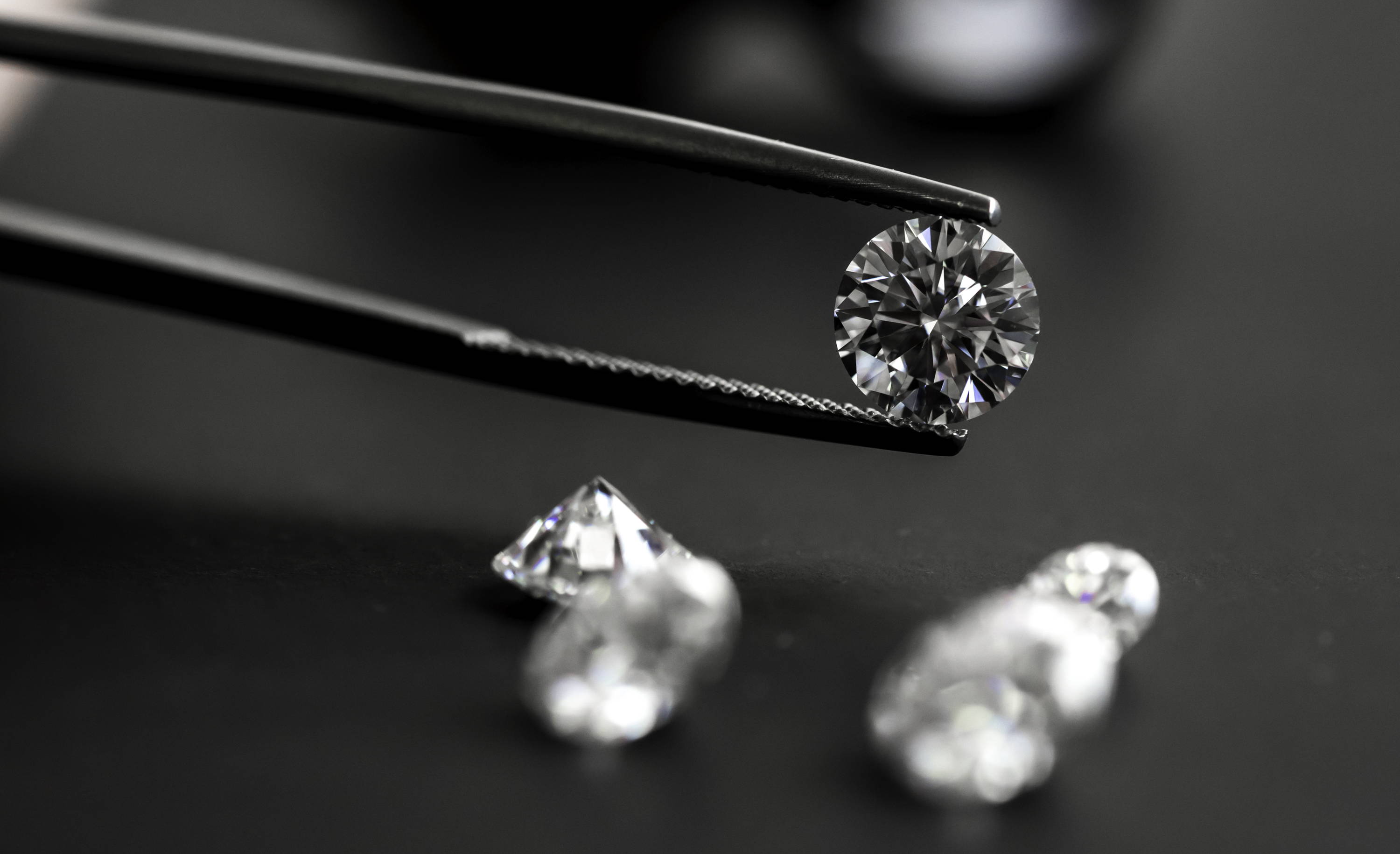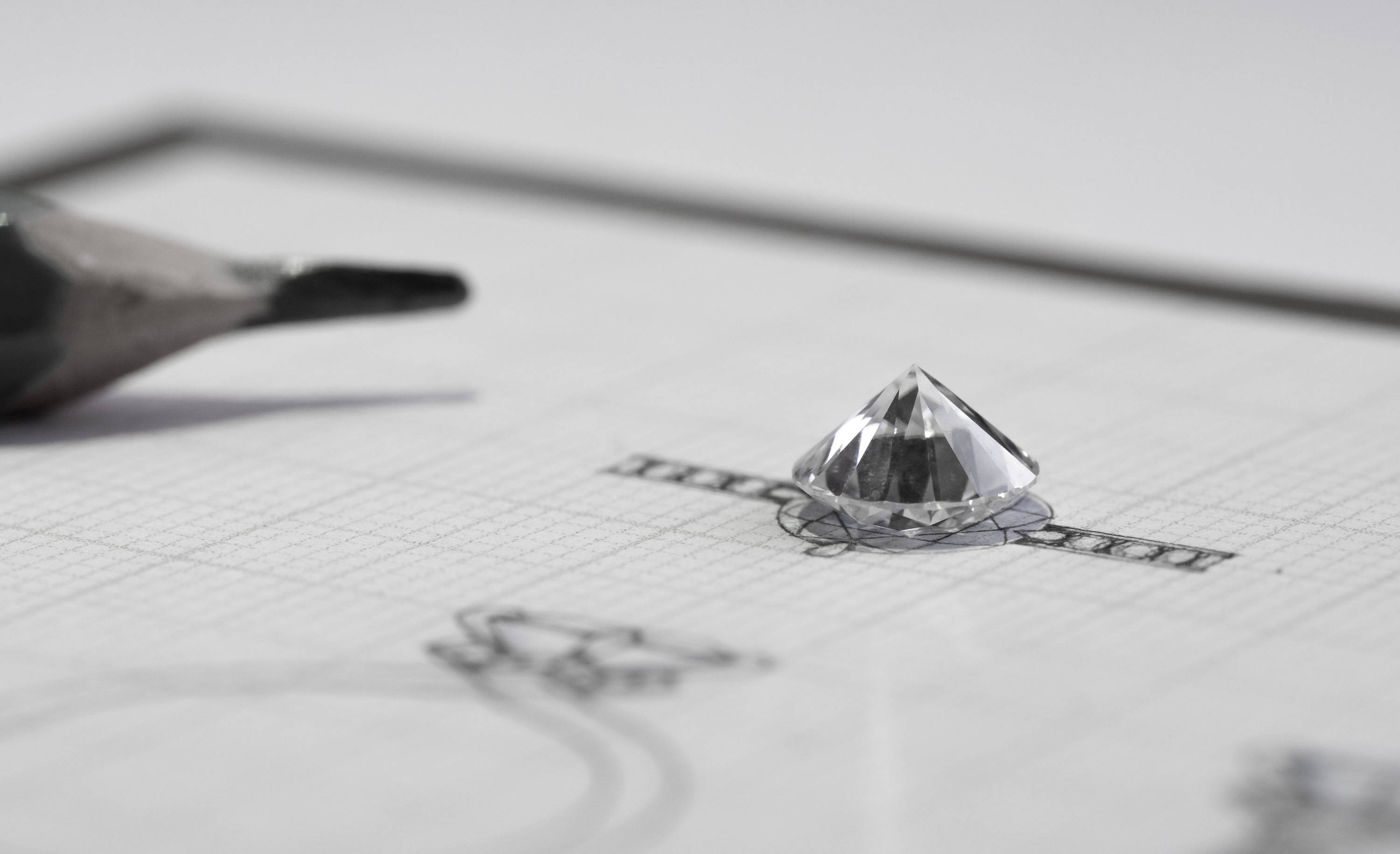 At this stage, once we have a discussed a brief, we take a Design deposit of £250 which is redeemable against the final purchase price of your jewellery. We will then develop ideas using traditional sketching techniques or Computer Aided Design (CAD) software to illustrate 3D photorealistic renders of your piece of jewellery.

Once the design drawings have been approved, we then create a wax or resin prototype of your piece of jewellery on our 3D printers. This is helpful in enabling you to try the piece on and get an accurate feel for the proportions and dimensions of the design.
The item is first cast from the resin or wax/prototype using the lost wax casting method – this means that the finished piece of jewellery is the exact replica of the prototype that has been created. We cast in your chosen metal using recycled platinum or gold, or Fairtrade gold if selected. Once the item has been cast, our jewellers polish and assemble the piece by hand.

The item is then passed to our diamond setter who meticulously sets each stone that has been selected, by hand under microscope. Once all stones are set, the item then has a final polish and steam clean, before being passed to quality control and sent to the Assay Office, where the metal is hallmarked with its relevant metal and purity.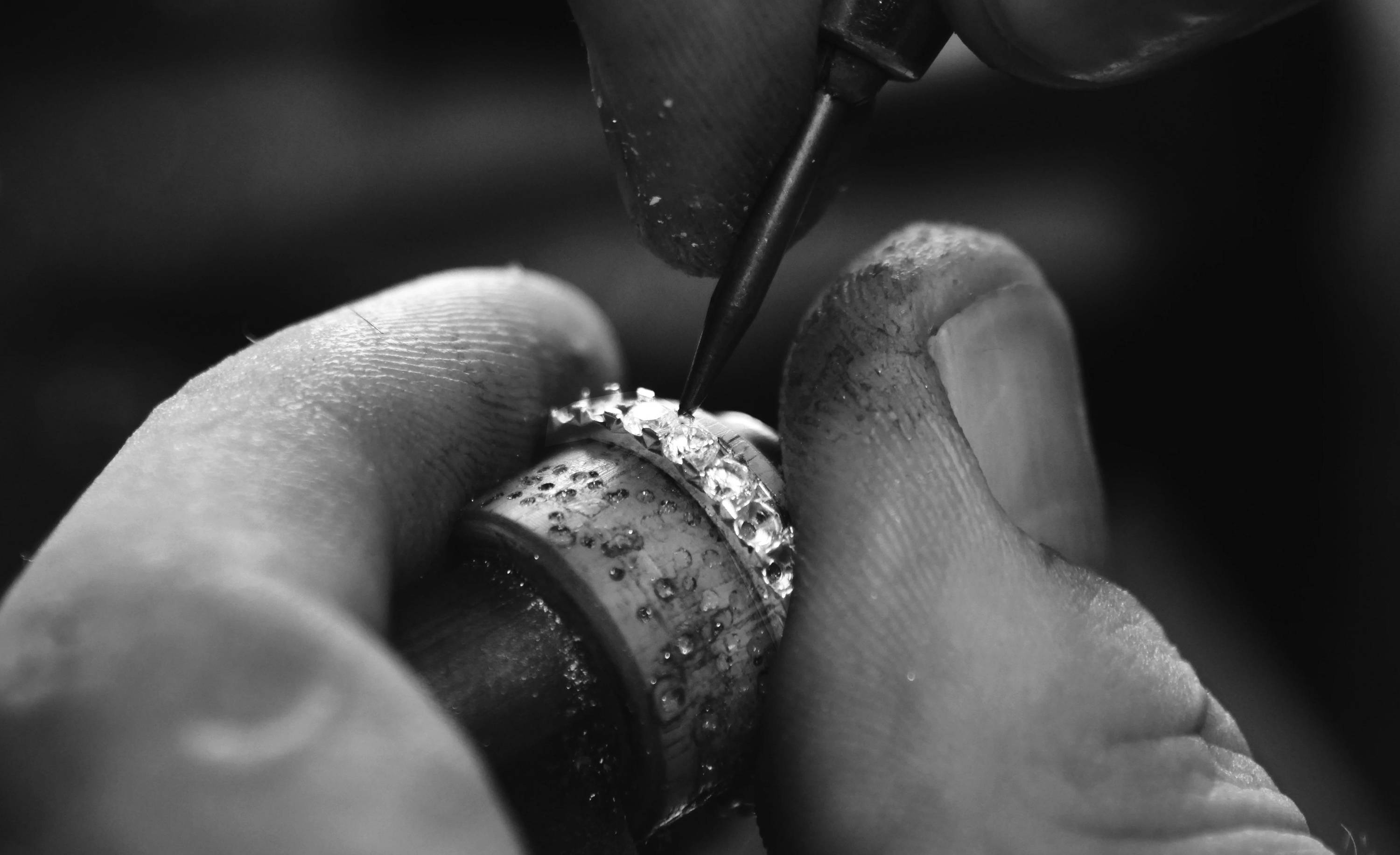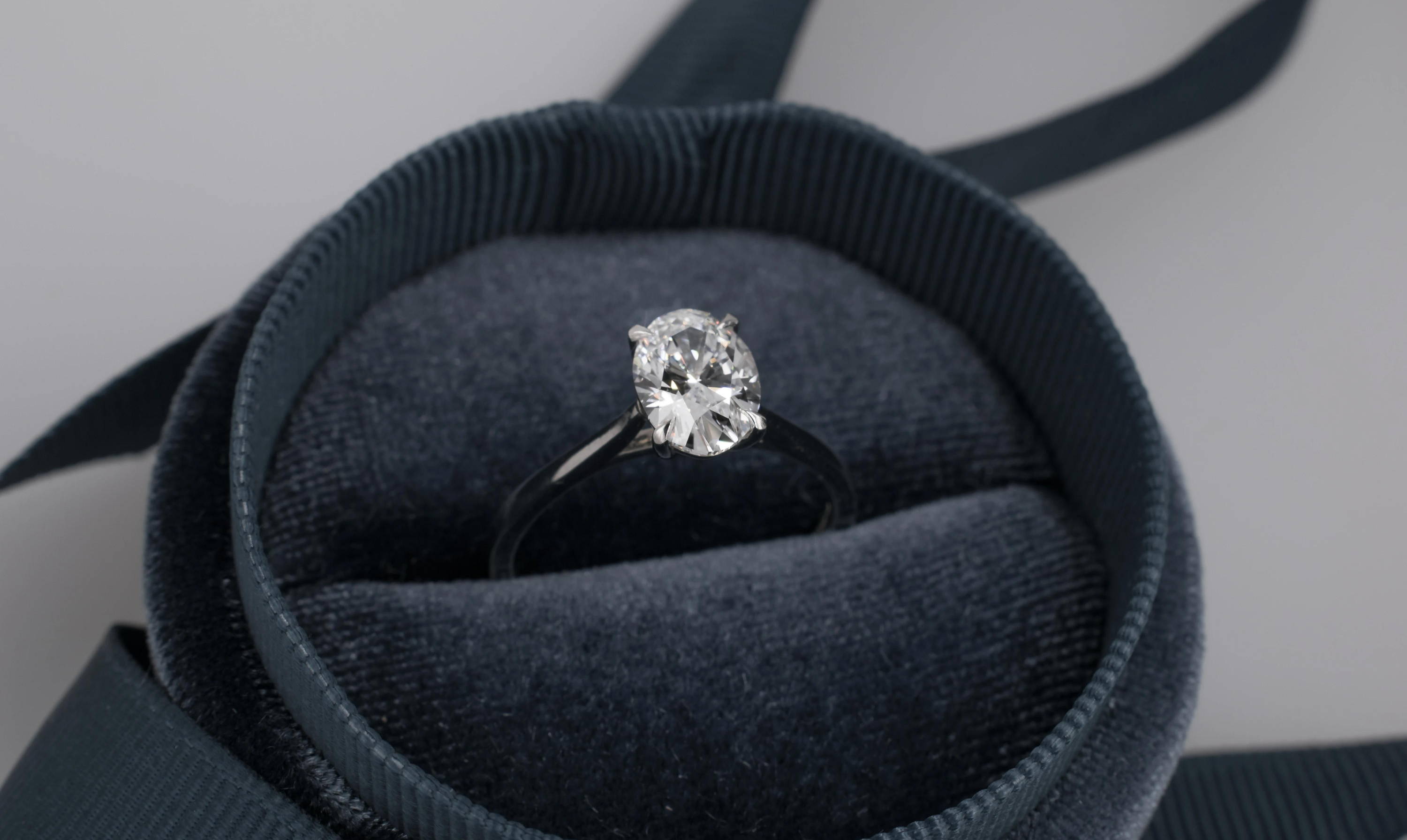 Once the item arrives back from hallmarking, it has a final quality check, is photographed and appraised for insurance purposes. We then give each piece of jewellery its unique passport – this gives you a free annual check-up and clean of your jewellery, which is documented in the passport. This is useful, and even required by many insurers, to check for wear and tear and any damage to claws to make sure your stones are all safe and secure.